Digital Fabrication products are important tools in the Aerospace Industrie. 3D-printing is a vital tool for aerospace engineers in rapid prototyping, tooling and even part manufacturing. MakerPoint is a trusted supplier for several Aerospace companies.
Digital Fabrication products in Aerospace
Benefits of 3D-printing and laser cutting/engraving in Product Design & Engineering
Faster product design process: from months to weeks/days
Quickly test design iterations by printing or cutting your product
Faster and better design validation before you invest in expensive production tooling
Design production impossible to manufacture with conventional fabrication technologies for weight reduction or functional integration
Review your design with colleagues or customers with a physical product instead of just a CAD file or rendering.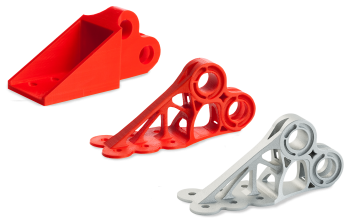 Why do Product Design & Engineering customers choose MakerPoint?
MakerPoint sales engineers understand your industry and application
MakerPoint sales engineers are highly skilled mechanical engineer, industrial design engineers
MakerPoint is premium reseller of the carefully selected brands
MakerPoint employees are trained to give you the best service and support
Each MakerPoint location is fully equipped for maintenance and repair.
MakerPoint makes sure you get the most out of your investment!
OUR 3D PRINTERS
OUR LASER MACHINES
COME TO OUR STORES
Use cases